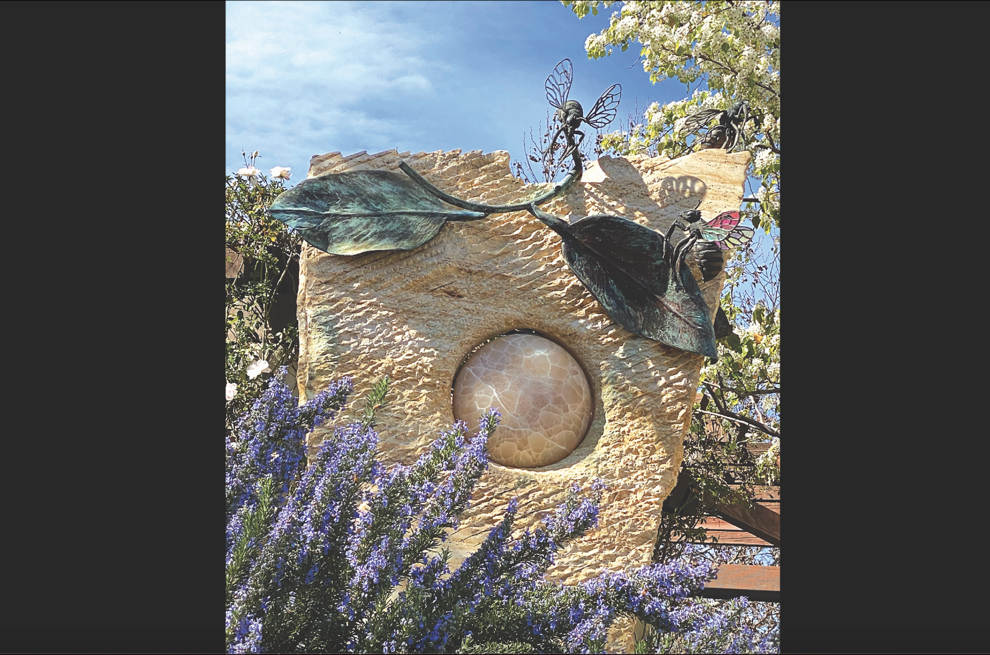 The O-Haiku (pronounced "O-jai-koo") poem competition for spring 2023 — the "buzz" around town — has begun in Ojai, International City of Peace, and you're invited to participate. Entries will be accepted from now until Monday, April 10.
A Haiku is a Japanese poem of 17 syllables that is in three lines of five, seven, and five syllables that traditionally evoke images of the natural world. In celebration of upcoming Earth Day (April 22), O-Haiku for Peace will acknowledge the planet's important pollinators, and the O-Haiku winner will be announced at the 2023 Earth Day celebration at the Ojai Community Farmers' Market on Thursday, April 20. This competition encourages locals to "bee" inspired by bustling busy pollinators by the Ojai Public Art sculpture "The Business of Bees."
The towering 8-foot sculpture weighs 6,000 pounds, and is located at the Ojai Valley Business Park Center in Bryant Circle. It honors Ojai's citrus industry, and is fashioned from golden Peruvian travertine and orange calcite from Utah. The travertine represents a honeycomb and the calcite, an orange. Artist Chris Provenzano's intention is to bring awareness to the bee colony collapse disorder. She collaborated with Paul Lindhard and several other sculptors on various aspects of this amazing piece, including the bee's glass wings by Michael Racine.
For some Indigenous cultures, the Native bee symbol represents honesty and willingness to serve the community. Bees are prolific communities of artisans that create strong, complex, geometric architectural designs. Their activity and byproducts have played an integral role in the creation of visual arts. The bronze-sculpting lost-wax method dates from the third millennium BC and has sustained few changes since then. The technique of painting with molten beeswax was first recorded over 2,000 years ago.
As we look at the environmental impact and the influence of bees in our daily life, from household items to preservation, bees help produce one-third of our food supply and create many medicines. Additionally, bees provide half of the world's fibers, oils, and other raw materials.
Competition guidelines:
• All ages.
• Be inspired by public art sculpture "The Business of Bees," located at the Ojai Valley Business Park in Bryant Circle.
• Write in haiku format (17 syllables, in three lines of five, seven, and five syllables).
• Include name, email, and phone number with submission. A request to remain anonymous to the public may be included. By submitting a poem to the contest, you approve permission for your poem to be reproduced and appear online and in print.
• Submit original O-Haiku entry by Monday, April 10, by email to: OHaiku4Peace@gmail.com or mail to: Valerie Freeman, PO Box 62, Oak View, CA 93022.