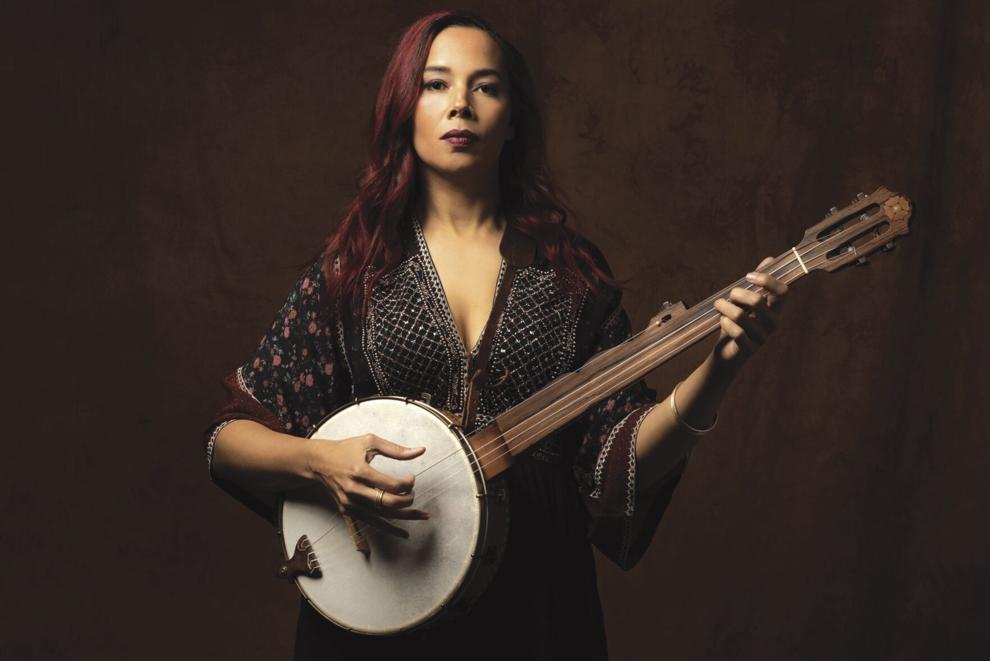 The 77th Ojai Music Festival, running June 8 to 11, 2023, welcomes as music director acclaimed musician and composer Rhiannon Giddens. Along with Festival Artistic Director Ara Guzelimian, Giddens shares initial programming highlights for the upcoming Festival which will include more than 18 music events in the beautiful setting of the Ojai Valley.
Giddens said: "I am so excited to get to work with the Ojai Music Festival as Music Director for 2023. With Ojai, I am able to sit at the crossroads of all that I am artistically and feel fully supported by the Festival team and by Ojai's audiences.With the artists that we're bringing out next June, the future is in celebration of how we come together as humans — despite boxes, boundaries, and borders thrown up with the intent to keep us apart."
"Rhiannon Giddens has an extraordinarily wide embrace of music, history, and culture. She uses her art to tell essential stories, to illuminate, and to create deeper understanding, dissolving false boundaries between people and cultures," added Guzelimian.
"Rhiannon's programs for the 2023 Ojai Festival touch on so many of her interests across musical genres, from Baroque music to Black traditions in American roots music, from classical music from China and Persia to the influence of non-Western music on American contemporary works. I am thrilled to be working with her and bringing her range of musical interests to Ojai audiences."
Among her many diverse career highlights, Giddens has performed for the Obamas at the White House and received an inaugural Legacy of Americana Award from Nashville's National Museum of African American Music in partnership with the Americana Music Association. Her critical acclaim includes in-depth profiles by CBS Sunday Morning, the New York Times, the New Yorker, and NPR's "Fresh Air," among many others.
Giddens was featured in Ken Burns' "Country Music" miniseries, which aired on PBS, where she spoke about the African American origins of country music. She is also a member of the band Our Native Daughters with three other black female banjo players, Leyla McCalla, Allison Russell, and Amythyst Kiah, and co-produced their debut album "Songs of Our Native Daughters" (2019), which tells stories of historic Black womanhood and survival.
Some pieces to be featured in next year's Ojai Music Festival include: 
World premiere of "Omar

'

s Journey," an Ojai commissioned suite for voices and chamber ensemble drawn from the opera "Omar" by Rhiannon Giddens and Michael Abels. The new work, placed in the context of the journey of Omar ibn Said (1770-1864), is contextualized by the music of Senegal and the Carolinas
A reimagining of Tan Dun

'

s pioneering "Ghost Opera" for pipa and string quartet
An acoustic concert with Rhiannon Giddens and Francesco Turrisi featuring music ranging from Baroque to Appalachian ballads and traditional Black American songs
Carlos Simon

'

s "Between Worlds," four string works placed directly in the visual context of the work of the self-taught artist Bill Traylor, whose lived experience (1853-1949) spanned the Civil War, Emancipation, Reconstruction, Jim Crow, and the Great Migration
"Strings Attached" concert – a festive finale of bowed and string instruments from cultures in the Americas, Asia, Europe, and the Middle East
An

"

Early Music" concert curated by Francesco Turrisi with music spanning from ancient pipa music to works of Dowland and Monteverdi