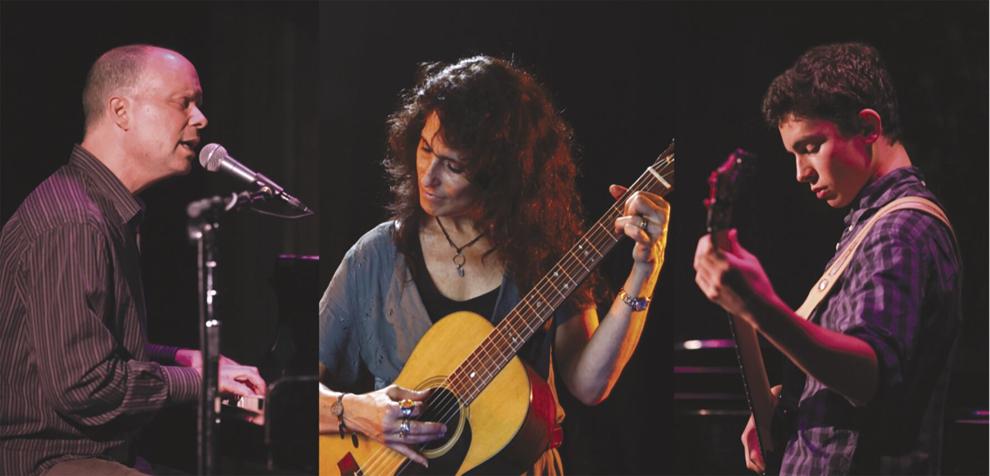 The Beatrice Wood Center for the Arts, 8585 Ojai-Santa Paula Road, is pleased to present "The Edna Project", a performance by Liz Queler, Seth Farber and Joey Farber, on Sunday, March 19, at 3 p.m. "The Edna Project" features the poetry of Edna St. Vincent Millay, set to music by Liz Queler and Seth Farber. Tickets are $30 and can be purchased at beatricewood.com or by calling the Center at 805-646-3381. A reception for the artists will follow the performance.
Partners in marriage and music, Liz Queler and Seth Farber are both three-time Grammy nominees. As children of musical parents and parents of a musical child, they started bringing their son, Joey, onstage with them when he was a tot. Now a graduate of Berklee College of Music, Joey has stepped in as an equal. With individual credits including appearances at Newport Folk Festival and Carnegie Hall (Liz), "Saturday Night Live" (Joey) and the conducting podium of numerous Broadway shows (Seth), they blend and communicate as only a family can. Heavy on harmonies with influences from Appalachia, bluegrass and gospel, their music is infused with a rock sensibility, creating a soulful cross between Crosby, Stills, Nash & Young, Patty Griffin and John Mayer.
The Queler-Farbers have eight CDs between them. "The Edna Project" CD, a collaboration by Liz and Seth, set 21 poems by Edna St. Vincent Millay to music, and became both the inspiration and score for "Still Will Be Heard" (SWBH), their first theater piece, commissioned and produced by PEAK Performances at Montclair State University in New Jersey. The family has toured extensively and was featured on Rosie O'Donnell's HBO special "A Family is a Family Is a Family" and in the 2019 PBS tribute to Pete Seeger. Liz and Seth were Cliff Eberhardt's band for many years, and they are also both members of children's rock sensation Brady Rymer and the Little Band That Could.
Hailed by Billboard Magazine as a "singer's singer," Liz Queler (guitar and mandolin) has composed for TV and film, and worked extensively as a studio singer including jingles (Meow Mix, Exxon, Sprite, Estroven), film scores ("The Little Mermaid," "Barney's Great Adventure") and the PBS American Masters' biography on Lucille Ball for which she sang "My Funny Valentine." Liz signed with Palmetto Records and BUG Publishing for her second and third releases, and has shared the stage with folk icons Richie Havens, Janis Ian, and Guy Clark, among others. Her songs have won awards from Billboard and The National Academy of Popular Music. Liz is also founder-director of "Urban Garage", a monthly teen open mic and guided jam.
Seth Farber (piano and accordion) was musical director to the late, great Odetta for her last decade, producing three CDs, two of which were nominated for Grammys. Recently assistant conductor of the Broadway sensation "Ain't Too Proud — The Life and Times of The Temptations," his numerous Broadway credits include assistant conductor for "Hairspray" and music director and conductor for "Soul Doctor — Journey of a Rockstar Rabbi." He was music director for the late Willy "Mink" DeVille, with whom he toured and recorded from 1988 to 2008. Seth has released two solo piano CDs including numerous original compositions that have been used extensively for film and TV (HBO, Animal Planet, PBS, History Channel, Discovery) and he has recorded and performed with many artists, including Billy Joel, Jon Bon Jovi, Gregg Allman, John Prine, Phoebe Snow, The Staple Singers, Joan Osborne, Lucinda Williams, Chip Taylor, Alejandro Escovedo and Cliff Eberhardt.
Joey Farber (bass, piano, cajon) is fast amassing his own impressive credits, boasting three national jingles, an off-Broadway show ("Soul Doctor — Journey of a Rockstar Rabbi"), and appearances on "Saturday Night Live" and "Late Night With David Letterman." Joey is a graduate of Berklee College of Music.