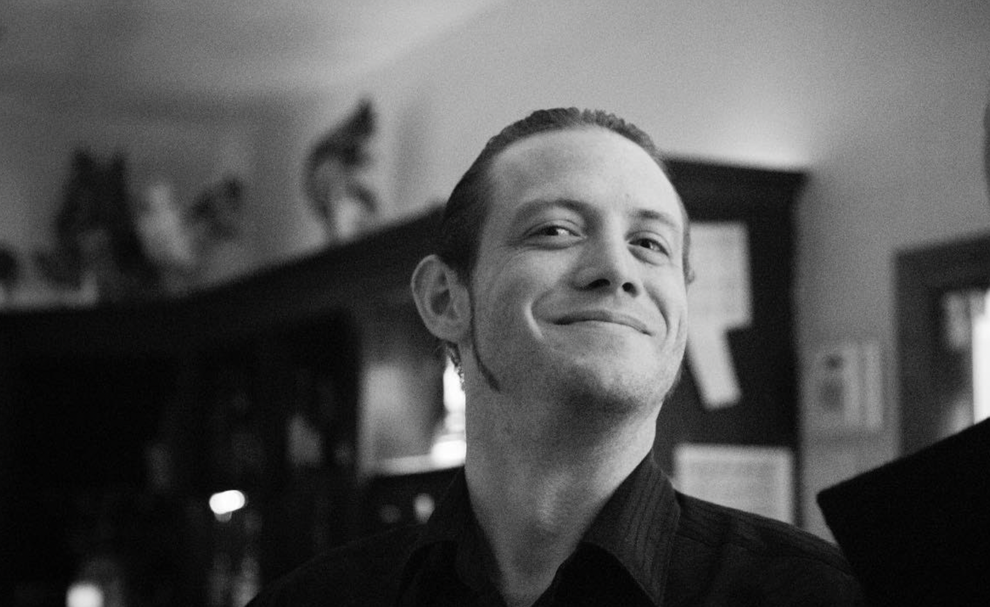 Sitting on the banks of the mighty Mississippi River with a gentle breeze blowing through the trees, listening to the birds sing, spotting a paddle steamer, and watching tugboats push and pull containers along, it's easy to see why Richie Smith loved New Orleans.
______________________________
Editor's note
The last few paragraphs of Nigel Chisholm's remembrance of Richie Smith were inadvertently left off the Jan. 20 print edition of his article. The entire article is included here in the OVN's online edition and will be included in the OVN's Jan. 27 printed edition.
________________________________
It's easy to understand why Richie Smith wanted to live here. And, it's easy to understand why Richie Smith moved here in 2018, got a job, and made it his home.
At 11:30 p.m. on Jan. 6, 2023, the job was done.
He had spent the night training a new employee at Evangeline, where he was the head bartender. Everything was very clean, very tidy, and put away perfectly. Prep was done for the daytime bartender and it was time to head next door to The Kerry for a nightcap. Tonight, it was going to be a quick one.
Paul, the manager, who was overseeing a boisterous and busy late-night crowd, nodded to Richie, gave him a thumbs-up, and mouthed apologies as Richie finished his Irish Car bomb, walked out the door, and headed home. Paul and Richie worked the same shifts and the pattern was set in stone. Richie would come in after his shift every night. The apology was because Paul was too busy to chat and he'd see Richie tomorrow as usual. But, he wouldn't see Richie tomorrow. No one would.
I walked into another boisterously busy Kerry on Tuesday night. Richie wasn't physically there, of course, but his spirit was. It was imbued into the soul of every single one of the hundreds of friends cramming the place to honor the memory of this plant- and flower-loving sweet, kind, and gentle person.
Maura, Richie's ex-partner with whom he moved to NOLA in 2018, met me at the entrance and we moved into a sea of love, stories, memories, and way too many poor impressions of Richie's voice. Richie, I discovered, was known by several names, including Chi-Chi and Dickburn. It seems that Richie attracted nicknames like he attracted friends ... easily.
A veritable feast was laid out on the covered-up pool table and people were partaking of that gift as Kyle, one of Richie's closest friends in New Orleans opened up the speaking part of the evening followed by a parade of friends and each spoke about how Richie's personality filled every room he entered and how his sheer happiness of just being was contagious. "It was almost like nothing ever really started until Richie arrived," recalled Kyle. Kyle was right.
People spoke of Richie's quirky sense of humor and his ever-present smile. Joe showed me the last message he received from Richie on his birthday. Richie sent him a picture of himself and a different Joe with the caption "Happy Birthday, Joe."
That was shortly followed by another message, "S**t, sorry buddy, wrong Joe."
"That was Richie," said Joe.
There were many mentions of how Richie made everyone feel important, that he had individual relationships with every one of his friends, and that he nurtured those relationships. One friend spoke of Richie's love of heavy metal music and of Richie constantly asking him to go see heavy metal bands together until one day he was shocked to receive an invitation to see a female singer-songwriter known for gentle love songs.
They didn't get to go.
Richie loved the LA Dodgers, too…and he made sure everyone in New Orleans knew it. He also made it known that he wasn't from California, he was from Ojai. Everyone in The Kerry knew Ojai existed … it was where Richie was from!
 There was a palpable sense of shock and confusion from everyone there as to how it is that Richie will not be around anymore. Any one of the people in attendance would swap places with Richie if they could. "Anyone but Richie," was a common refrain. One friend spoke of a dream he had a couple of days ago where Richie popped in to say that he had just gone to California and will be back soon. Although this friend said that he expects Richie to walk through the door at any moment, he knows that the dream was just a dream but, still, every time he looks at the door ….
Attending Richie's NOLA vigil was a way to let his New Orleans family connect to his Ojai family. Walking in, my hope was to bring a bit of Ojai love with me. To ease their burden and mine, too. To let them know that there was another community thousands of miles away that was upset, confused, hurt, and broken. After delivering Ojai love I anticipated that I would return home exhausted and depressed. I was wrong. I return home exhausted but inspired. Inspired because I collected an unexpected package to deliver to back to Ojai: New Orleans love.
Most of us will never know if the next time we step out of bed and our feet touch the ground, it will be for the last time. That is a good thing for having that knowledge would destroy most of us. However, were Richie to have had that knowledge on the morning of January 6, he would have lived his day in exactly the same manner … unafraid, joyful, and unapologetically Richie.
Richie was murdered, but his spirit, his joie de vivre wasn't. Richie didn't just die in New Orleans, he LIVED in New Orleans. It was what he wanted to do and he did it. Repose En Paix Richie Smith Repose En Paix. Tu es amié.