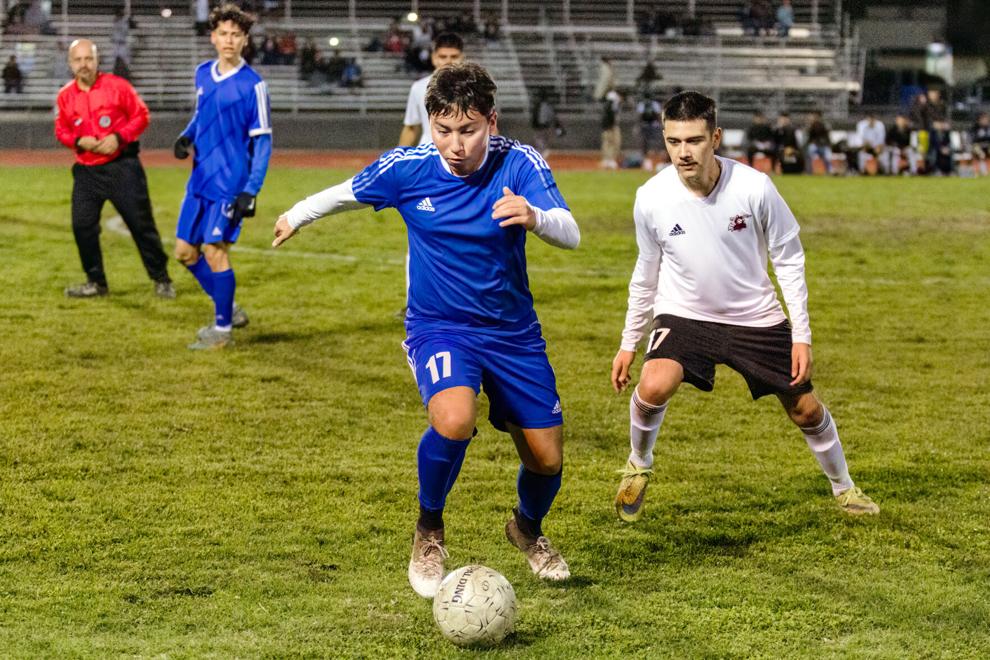 Head Nordhoff Boys' Soccer Coach Matt Inman has nothing but compliments for the team which is returning nine senior start- ers this season. In fact, eight out of the nine seniors were starters as freshmen and received a lot of playing time over the past four years. "We're in this great position and nothing is new to them on the field. They are very confident and know what to expect when we go to play. They believe they are capable of beating anyone," Inman explained.
Nordhoff has a deep bench as well, with several high level club players. "We have 13 guys where every single one of them is essentially a starter. Then we have another four guys who we are bringing along to gain experience for future team leadership," Inman added.
The series of rain storms have created havoc for all the local turf fields and Nordhoff is no exception. Inman explained that there will be added pressure to fit in all the missed games before CIF play begins, so NHS may be playing up to three games per week. After losing a tough 0-1 away game to league opponent Carpinteria, despite dominating the game, NHS dug in and pulled out a 3-1 rematch win against the Warriors recently.
With primarily a 4-3-3 setup, Nordhoff's experienced squad created a lot of offensive opportunities, particularly with talented striker Ozzy Jimenez and "false nine" Juan Lopez. "We were getting very unselfish play from senior Juan Lopez throughout the game, who was very patient on the ball. He would hold just long enough for a passing lane to open up. It was high-quality offense throughout," Inman said.
Inman offered positive feedback about the NHS midfield and defense too. He said: "Senior midfielder Captain Axel Jimenez is really the glue for this team. Axel plays minute one to minute 90 in every game and from game to game. He is super solid. He does his job and more, and controls the field for us. He's inspirational for the other guys as well." On defense, Inman praised junior stopper Dylan Blacker who he said is making a big impact on the field. "He came out of cross country with outstanding fitness. He's been able to outperform everybody he plays against." In the sweeper position, senior Ernesto Velez has taken on the role of defensive communicator and organizes the defense. His team- mates call Velez "Mr. Fitness" because he goes above and beyond to in- spire his teammates to do extra runs outside of their regular practices. "He's always gathering guys up and doing laps through the Arbolada or running stairs in the stadium. He wants this so much," Inman explained.
The Rangers are 8-4 overall and 3-3 in a very tough league that includes huge schools like Channel Islands, Hueneme and Santa Paula, all of whom have 2,000-plus students. For example, league opponent Channel Islands are CIF Division 1, while Nordhoff plays CIF Division 7. "We feel that this is our year to reach CIF and if we can get there, we think we can go through in Division 7," Inman added. Weather permit- ting, Nordhoff's next home game against Malibu takes place Friday, Jan. 20, at 6 p.m.