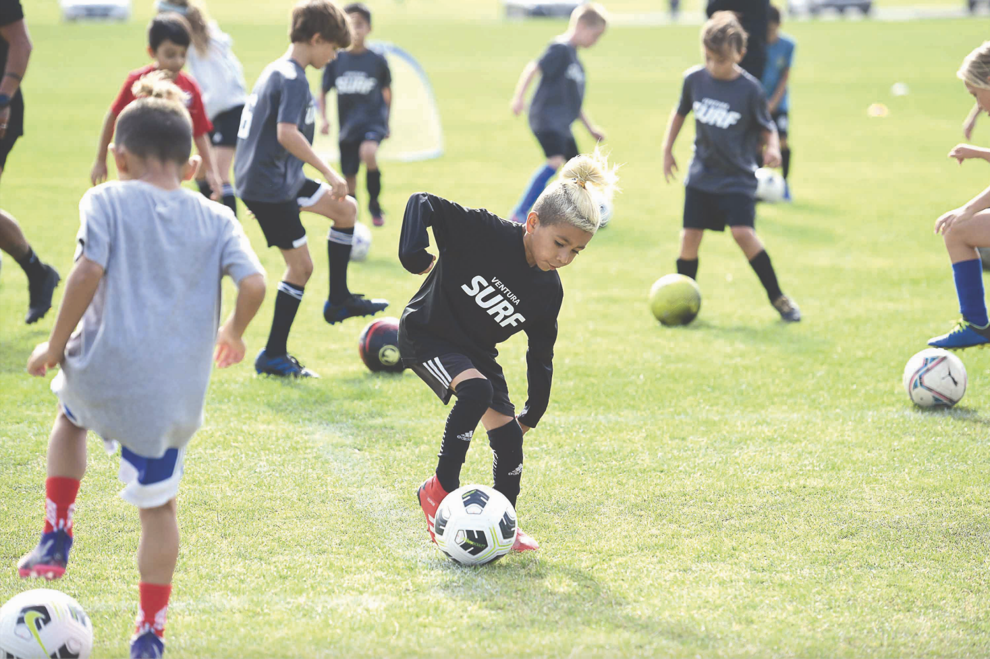 Ojai's youth soccer players will soon have the opportunity to receive top club-level training at Sarzotti Park through a partnership with Ventura Surf Soccer Club and local Ojai coach Nicholas Wedin. As a young soccer fanatic, Wedin's 8-year-old son, Noble, is passionate about the game. His father, Nicholas Wedin, spent years driving him to compete in Oxnard until he decided that Ojai deserved quality youth soccer training right here within the valley.
"My son Noble and I had been participating for almost a year in an Ojai pickup game where we discovered a community brought together by a passion for soccer. I was inspired to give these kids an opportunity to learn and continue to fall in love with soccer," Wedin said.
Wedin recently approached Ronny Shields, director of coaching at Ventura Surf Soccer Club, with the idea of holding training clinics and forming club teams in Ojai. He said that he was met with enthusiasm and a willingness to help.
According to Ronny Shields: "Our mission is to create the 'Best of the Best' experiences and opportunities for youth soccer players through our club...while providing our staff the tools so they can focus on what they love most — coaching and helping their players achieve their dreams."
With the guidance from Ventura Surf Soccer, Wedin decided to launch his new Ojai-based club team dream with a series of four clinics conducted by Ventura Surf Soccer's head technical trainer, Brian "Ziggy" Ziegenhagen. Clinics will take place on four consecutive Fridays, starting Jan. 13.
Wedin will form and coach club teams for boys born between 2013 - 2015 starting with open training in early February. The intention is to compete in the Newbury Park Elite Spring League.
The clinics are "just the beginning of a larger movement in Ojai that will give both girls and boys an opportunity to play and learn at a more competitive level. We are so excited!" said Wedin.
Friday Finishing Clinics will be hosted by Ventura Surf Soccer Club.
Coach: Coach "Ziggy" Ziegenhagen
Where: Sarzotti Park (510 Park Road, Ojai)
When: 5 to 6 p.m., Friday, Jan. 13, 20, 27 and Feb. 3.
Cost: $55 — includes a Surf training shirt
For more information, contact Ronny Shields: RONNY@venturasurfsoccer.com.