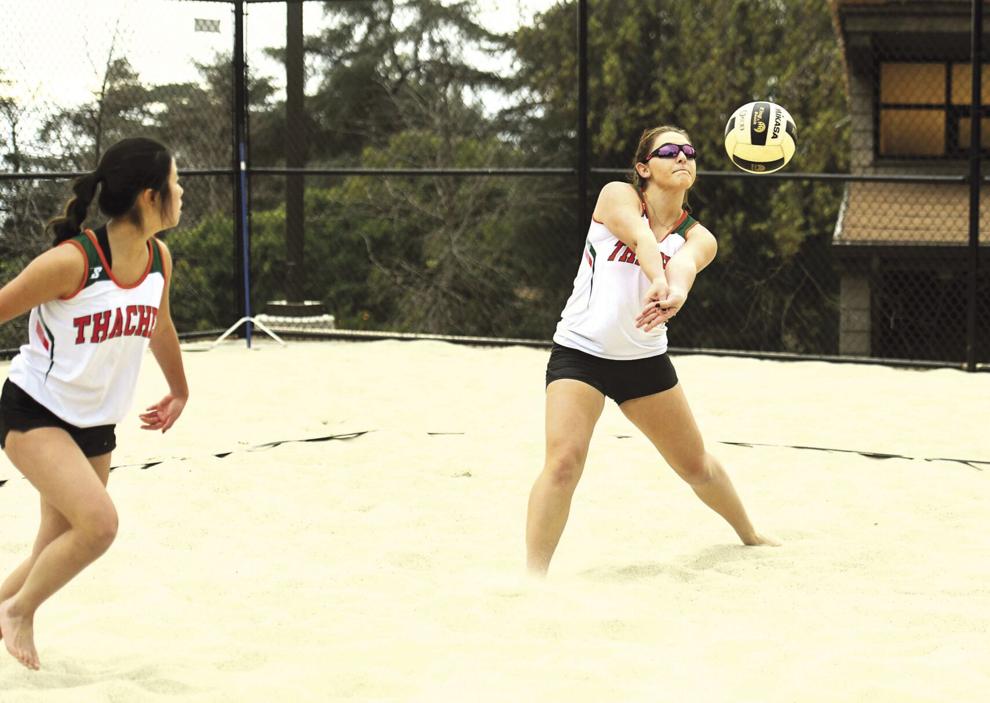 The Thacher School has added its first new CIF-SS sport in over 20 years — girls beach volleyball. Although sand and beach volleyball are interchangeable in the sport, CIF-SS officially designates the high school sport as "beach" volleyball.
The Toads have a slew of indoor volleyball enthusiasts who pushed for the sport to be added as another fun and competitive team in the girls column of spring sports. Athletic Director Jason Carney and the administration readily agreed and Sayra Trejo, the indoor volleyball head coach, jumped at the opportunity to head up the new program.
Coach Trejo arrived at Thacher in 2021 with a strong volleyball background as a player, college play-by-play announcer and youth coach. She noticed "a lot of fervor for volleyball here, the girls are really into it and the boys too." Trejo wants to foster that love for volleyball.
Thacher had the outdoor sand courts and they knew that beach volleyball programs already existed up and down the coast. Seniors Grace Yang and Petra Stoilkovich played competitive beach volleyball independently last year, so it was a natural progression to start a school team with them taking the helm as captains.
"We really take senior leadership seriously here. So, getting to have them (Yang and Stoilkovich) on the indoor team and then on the beach team, it's just been such a real treat. They bring their knowledge and they're fantastic players, too," Trejo added.
The inaugural girls beach volleyball season is underway and the Toads have competed in three matches to date against Foothill Tech, St. Bonaventure and Providence. Several matches have been rained out or rescheduled due to high winds. The team ideally consists of five pairs of two players, though currently Thacher has only four pairs. The paired teams compete in one of each position, 1 through 5, with the highest-ranked players starting in position 1.
The teams play on two or three courts at a time, depending upon the courts available. The winning pair must score a minimum of 21 points, (win by 2) for the first two sets, and then earn 15 points minimum (win by 2) for the third set. A match is won by winning three out of five sets.
The Toads are stilling looking to win a match but they have taken a number of sets, and they are encouraged to build on their new experience working in sand. Coach Trejo noted: "I keep reminding the girls, it's not about the winning and los- ing now. It's about experience. Knowing how much harder this game is to move around in the sand....we're just getting pure experience in our inaugural season."
Coach Trejo's philosophy of coaching includes fostering a true love of the game, and playing the sport beyond high school, whether that is recreationally or at a higher level. She likes "teaching them how to be the best competitors that they can be. I think for girls sports, we often have trouble...fostering healthy competition and what that looks like. I like to remind them (to) play your best, so your partner could play her best.... and just celebrate each other...it's a lot bigger than just the touches on the sand," Trejo said.