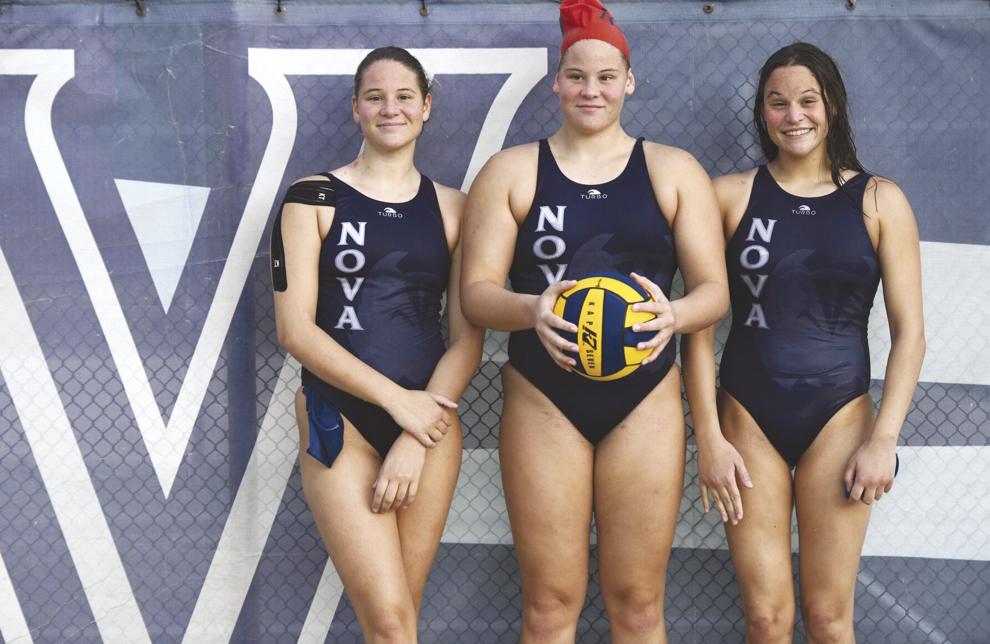 As one might imagine, three sisters, born minutes apart, might inevitably be compared with one another, but the Tully-Giles triplets' individual and unique talents defy the urge to synthesize them. Learning to swim only at age 5, the Villanova sisters are making a huge splash in the world of water polo, swim and beyond.
Eva Tully-Giles, the eldest by five minutes, enjoyed watching her sisters, Hannah and Ida, fight over toys, water polo balls and school records. The triplets' father, Mark Giles, described Eva as the strategist — the toddler who laid on her back with a book while her sisters fought over a toy. Eva waited until they got absorbed in fighting each other, and then Eva would make her move to secure the toy.
To this day, Eva strategizes her best path forward in the pool and in academics. She plans to study biophysics and molecular biology in college. She has been accepted to University of Hartford and Mount Holyoke and waits to hear from Brandeis, Boston University and Northeastern. Although she played club water polo with her sisters when younger, and she played high school water polo to appease her sisters, Eva's interests lie more in academics. She also loves to swim.
"Even if I never play again, I now know how to balance time for schoolwork and other things because water polo and swim are just so all-encompassing," Eva said.
Eva scored 29 goals for the Wildcats this season, putting her at 45 for her career. She is working to beat her personal best 500m freestyle time and earn the Villanova record. Eva is also one of the top students in STEM in the Villanova 2023 class.
Hannah and Ida, born less a minute after Hannah, both committed to play NCAA Division 1 water polo at Fresno State next year. Hannah, the middle sister, considers herself sometimes as the mediator and oftentimes as the instigator of the three. Hannah takes that spirit into water polo. 
"I don't care if I come out bleeding. As long as that girl is mad enough to hit me at least once out of the water (and get an ejection), I'm good," Hannah said. "It's all about frustrating your opponent and controlling the pace of the game."
Hannah set the single-season water polo scoring record of 105 goals this season for the Wildcats and she is the career scoring leader with 195 goals during her four years in the program. She is also chasing the school records in both the 200m IM and 100m backstroke. Hannah is excited to join Ida on the water polo team at Fresno State next year and plans to study plant sciences.
Ida Tully-Giles, the youngest sister by seconds, considers herself the most competitive. She was the first one to not only walk, but run at 10 months of age. She also decided that splash ball looked more fun than regular swim lessons when the three were at the Ventura YMCA at age 6. They started playing games similar to water polo but without contact by the age of 7, but Ida was soon ready for something more competitive.
Within two or three weeks of field training at SB 805 Water Polo club in 2011, Ida started converting to the goal. "I liked being in the goal. It (also) meant that I didn't really have to swim." The position stuck when Ida made at least three unexpected saves as goalie in a Ventura League shootout in one of her first-ever games of water polo.
Fast forward to the 2021 Junior Water Polo Olympics (JOs) where Ida's SB 805 U16 team won gold in the Platinum division. Hannah's SB 805 U18 team also won gold in the JOs Silver division the following year in 2022.
Ida Tully-Giles holds the Villanova school career record for saves with 1,131 total in four years and already held the single season record of 414 set in the 2021-2022 season. Ida also has 47 career goals with over 90% of those as full-court shots. Despite her plan to avoid swimming, Ida owns the 100m butterfly record at Villanova and is chasing the 100m breaststroke record this season. Ida plans to study kinesiology and looks forward to the hands-on program and family-like environment at Fresno.
Coach Tim Settem said he believes the Tully-Giles triplets will be successful no matter where they go. "With their attitude, heart, and determination, I see all of them being extremely successful. I think that's the thing that sets them apart from so many athletes that we see these days...their mental fortitude is just phenomenal," Settem said.